DFL 2022 Fiji Registration Re-Opening Information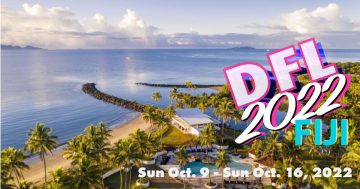 PLEASE READ CAREFULLY
We are pleased to announce that registration is open, April 20th, 2022. 
Be sure you have created your Member Account and are logged in.
We have placements in the following room categories :
Double Ocean View, Double Garden View, and Single Garden View rooms.
In some categories there are very few rooms. eg Single
On the registration form we will open only 1 category of Room–the lowest category (Double Garden view).
Everyone will register for that category. In the registration form there is a field : Special Registration Notes -enter the room types you would prefer here (first and second choices).
We will allocate rooms on a first come first served basis. All new participants will be notified for their final room confirmation, AND THEN asked to send in their $500US deposit.
Please note *there are limited rental gear left*. These too will be allocated first come first serve.
DFL 2022 FIJI COVID-19 REQUIREMENTS
Due to the ongoing circumstances surrounding the COVID-19 pandemic - especially vaccination requirements and COVID-19 related travel restrictions we have implemented the following policies. PLEASE READ ALL ITEMS VERY CAREFULLY.
1) All attendees of Diving For Life Fiji 2022 must be fully vaccinated.
2) Proof of Vaccination documentation will be required to be provided at the same time as Diving Waivers and any other required documents.
3) All attendees will have to adhere to Fijian government requirements as well as airline requirements. Both currently require all visitors to be fully vaccinated.
For your own planning, please review these requirements before submitting your registration.
These policies may be updated over time, it is your responsibility to be up to date with any changes.