Come join us for only the 2nd time we've been to Belize. We will be at the Belize Ocean Beach club in Placencia, Belize: Oct. 14-21 2017.
Belize is located in Central America and it is bordered to the north by Mexico, to the south and west by Guatemala and to the east by the Caribbean Sea. It is a diverse country with various cultures and languages. It also has the lowest population density in Central America with 35 people per square mile or 14 people per square kilometer.
Belize is also known for its extreme biodiversity and distinctive ecosystems. On the coast, there is a swampy coastal plain with mangrove swamps. In the south and interior there are hills and low mountains. Most of our land is undeveloped and is forested with hardwoods. It is a part of the Mesoamerican biodiversity hotspot and it has many jungles, wildlife reserves, a large variety of different species of flora and fauna and the largest cave system in Central America. Some species of Belize's flora and fauna include the black orchid, the mahogany tree, the toucan and tapirs.
Ocean Beach Club is a tropical chic resort sitting on the best beach in Central America. Belize Ocean Club spans the width of the Placencia peninsula, boasting beautiful views of both the ocean and the lagoon and Maya mountains. DFL has exclusivity of the full resort which is arranged with 2 bedroom suites with a living, dining and kitchen area for each unit. Each unit has a terrace or balcony overlooking the water.
SCUBA or snorkel the incredible Belize Barrier Reef, fish the abundant flats of Southern Belize, or explore the Maya ruins and jungle. Or just stay at the resort and enjoy local drinks at the swim up bar or nap in a quiet beach hammock. You'll be able to check many things off your bucket list by the time you leave Belize Ocean Club.
Diving For Life has also organized special pricing for additional add-on diving adventures in other parts of Belize.
---
DIVE RIGHT IN…
It's been nearly 26 years since the vision of one man created the worldwide Diving For Life family. Since 1992, Diving For Life has held 25 SCUBA diving jamborees with hundreds of participants in 14 countries, and affected thousands of lives with close to $1.2 million US dollars given to charity. So join us!
Click here for DFL 2017 Belize trip information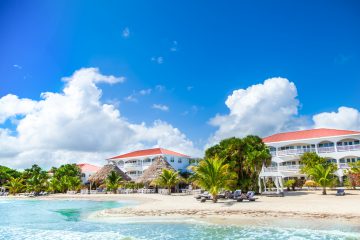 Belize Ocean Club Resort, Belize
Diving For Life is a tax exempt, not for profit organization that sponsors The International Gay and Lesbian SCUBA Jamboree. All proceeds from the Jamboree are donated to charitable organizations that support the health concerns of the LGBTT community.
Birth of a Movement

One who "lives to dive" can also "dive to live." So proved Patrick Kelly when he gave birth to the First Annual Diving For Life Scuba Jamboree in 1992. A veteran diver in love with the sport and infected with the AIDS virus, Patrick's dream was to unite all gay and lesbian divers while raising money to fight the virus which was slowly depriving him of life.