VIRTUAL FUNDRAISER
Neptune's Kingdom Virtual Event
Welcome to our first ever Virtual Event!
The Lost DFL VIRTUAL EVENT Oct. 24-31, 2020
Diving For Life recognises that this year we cannot get together as is our tradition. Like many other events we are going to hold a "virtual"  DFL. Our goal is to maintain the DFL spirit during these weird times. Each day there will be online activities that you can participate in, and hopefully have some fun as well.
We hope that you get involved, host an online 'room drinks' or similar POD activity. There won't be any formal ZOOM calls, we would like you to get involved with those you have met over the last 30 years that DFL has been running.
If you have a good idea–just do it ! Don't wait for the board to organise, just connect with those divers around the world.
Just like any DFL there is a commemorative (and exclusive!) T Shirt . All will be revealed below.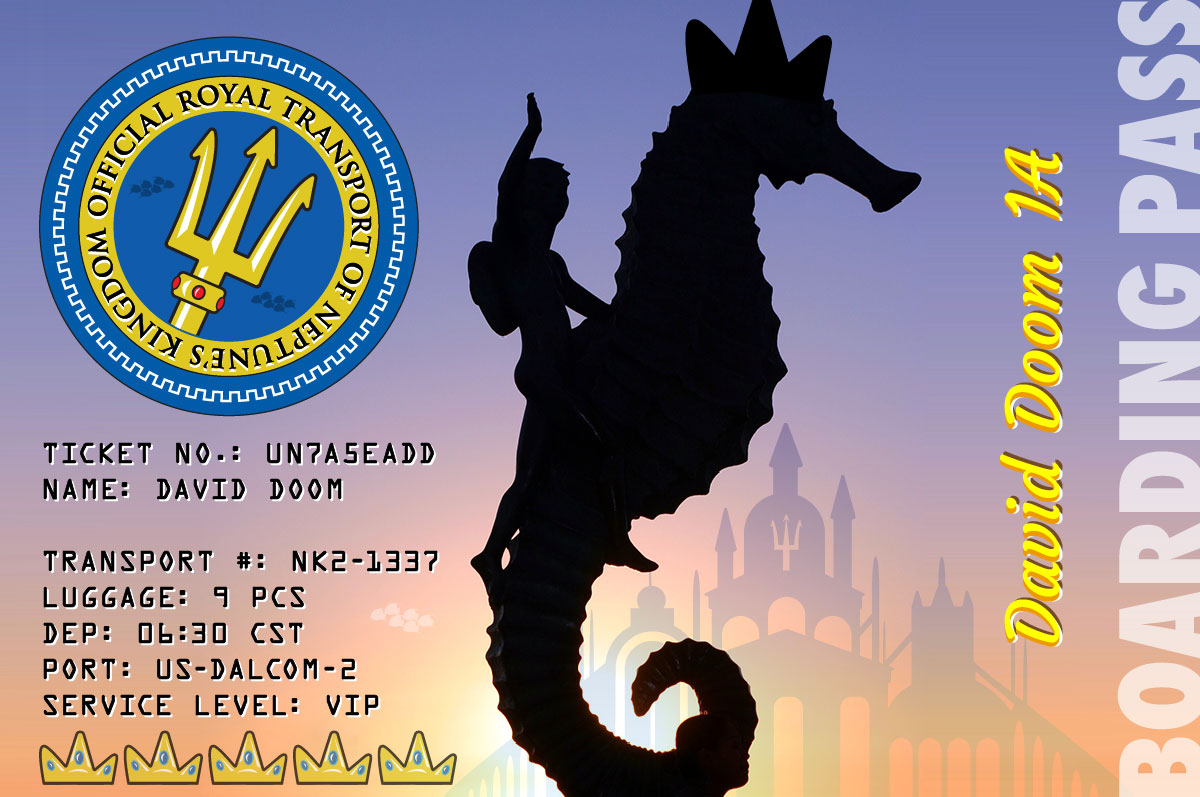 Pack your bags and diving gear, and come join us this year at Neptune's Kingdom. Of course it's your "virtual" baggage and no airfare required as we do a 2020 Diving For Life . virtually.
Several months ago when the Board made the decision to postpone DFL this year to 2021, I thought we'd have an easy year as a board. Actually we've had more meetings and zoom calls then we ever had before and it was through those meetings we discussed a proposal from one of our long standing members, Greg Johnson, to maintain the DFL spirit with our diving Family this year. So we're really pleased to announce the 2020 Neptune's Kingdom trip—no passport needed, just login with the information in this Eblast.
What would a DFL Event be without a collectible t-shirt designed by Chad Anderson? Well we've got that! We weren't able to arrange an auction either silent or live (our silent auction donating partners have been hard-hit by the pandemic), but I think you'll be pleased with some of the fun events and surprises we'll have for you. To make the most out of the events, we need to all to contribute & participate.
A final note of thanks to Matt and Tracy who have continued in their coordinator duties to this year and to all our board for their contributions.
- David Doom, President Diving For Life
Our virtual event will be structured very similar to an actual DFL Jamboree. Each day there will be announcements about what is going on that day with several ways you can interact with other members of our group.
Ultimately, this is a virtual fundraiser in lieu of our annual jamboree. You can help the most by donating or purchasing exclusive Neptune's Kingdom merchandise in Neptune's Gift Shop. 100% of the profits from the gift shop will be donated to Diving For Life. Any contributions made to Diving For Life, a charitable organization with nonprofit 501(c)3 tax exemption status, will be accompanied by a gift acknowledgment letter that you may give to your tax preparer.
Welcome to Neptune's Kingdom
Neptune's Kingdom Event Blog
November 18, 2020
October 31, 2020
October 30, 2020
October 30, 2020
October 30, 2020
October 30, 2020
October 29, 2020
October 29, 2020
October 29, 2020
October 29, 2020
October 29, 2020
October 28, 2020
October 28, 2020
October 28, 2020
October 27, 2020
October 27, 2020
October 27, 2020
October 27, 2020
October 27, 2020
October 26, 2020
October 26, 2020
October 26, 2020
October 26, 2020
October 26, 2020
October 25, 2020
October 25, 2020
October 25, 2020
October 25, 2020
October 24, 2020
October 24, 2020
October 24, 2020
October 18, 2020
October 10, 2020
October 8, 2020
October 7, 2020