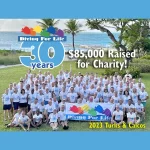 DFL30 Turks & Caicos Wrap Up
November 16, 2023
Over 30 years ago, Patrick Kelly envisioned and created Diving For Life. This video is his story told by those who knew him best.
Since 1992, DFL books a dedicated resort for a life affirming week of LGBTQ diving, entertainment, and camaraderie. The proceeds of the event are donated to charitable organizations designated by Jamboree attendees. Thanks to Diving For Life Jamborees, LGBTQ Scuba Divers from around the globe have helped to raise OVER $1.7 MILLION dollars for people living with AIDS and other Lesbian and Gay health concerns. So join us!
Special thanks to Jeff Tennant and Anne Marie Foti for producing this video.